Awaken Your Heart:

4 Week Intensive Healing Program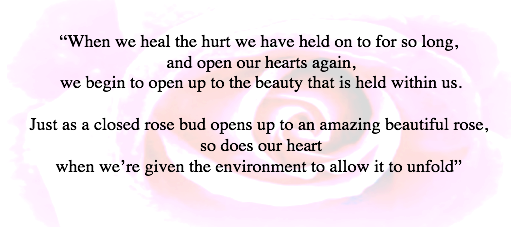 We have all had experiences where others have hurt us and in some way, this has caused some piece of us to shut down. Those emotions that make us feel like "less than". Lack of self-confidence and lack of self-worth begin to creep in. Anger can stir easily within us. Slowly our heart begins to close and we do not even realize it.
Deep within us, we hold a special place. This place holds everything we need.  It will support us to connect with others and helps us to find true love and happiness in our life.
I have put together a 4-week intensive healing package to lovingly assist you in getting in touch with the sacred place in your heart.  Helping you to pay attention to your emotional needs, to open your heart, and to truly feel love.
This program supports you to:
Release limiting emotions that keep you stuck, so that you can move forward with more ease
Know what you want, to have direction & purpose in your life
Move beyond the ego, not stuck in thoughts but instead working from the heart
Feel happiness and peace within, and a sense of contentment
Finally believe in yourself, to have more confidence
30 minute MP3 recording,
During this recording, you will learn how to feel, and learn how to work with your own emotions in a positive way. This is an introduction to the understanding of your physical heart, your emotions and emotional heart, your soul, and how to connect with your own heart and soul.
Shortly after that I will perform remotely:
An energetic process to clear inner child codes and support the opening of the heart chakra. It will also work with your 5th dimensional template allowing you to be supported by the nurturing effects of the earth.
Full remote high frequency & lightbody healing (including a reading of healing results over the phone or by recording)
15 minute MP3 recording
During this recording, you will learn about the sacred technology of the heart (3 chambers of the heart, the heart chakra)
Full remote high frequency & lightbody healing (including a reading of healing results over the phone or by recording)
BOOKING BONUS: "Sacred Heart Meditation" MP3
As a special gift to you, upon booking & payment, you will receive a short and very USEFUL Meditation MP3 to easily get in touch with that special place in your heart. You will be able to work with this at any time, to help you learn to remain connected to your heart, to really feel that internal safe space and to be able to go there when you need to.
I invite you to experience this journey with me
Your investment $195.00